Music libraries offer music for use (a.k.a. 'synchronisation') in film productions, television, commercials, games etc.  They usually maintain a catalog with thousands of songs and instrumental tracks.
For their clients to find what they look for music libraries offer automated searches by genre, mood, type of scene. You, the musician, have to tag each song accordingly during the editing process. Lists of suggested tags are long, it's not unusual to be able to pick from more than a hundred moods, lots of genres and subgenres plus additional information such as tempo, featured instruments, lyrical messages and so on. Tagging one piece of music can easily take up to ten minutes and longer.
How can you tag your music in order to be found? Well, you can't cheat the user by adding misleading tags that you deem popular even if your music has nothing to do with it. You probably will not know what a potential user is looking for at all. But you can try to understand what is going on in a user's mind while looking for music.
Such a user is officially called a 'music supervisor'. That's the person responsible for selecting the right music to underscore a film. Renowned music supervisors who have huge credits in the film business usually know what they are doing. However, you also have to consider those small advertising agencies and production companies who do not employ a person only for supervising the music. If such companies search music libraries for songs for their projects you better believe it's a rather unexperienced intern entrusted with that task.
Such 'occasional music supervisors' don't have a vast knowledge about music and all its genres and subgenres – and that's what you should consider. If you want your blues song to be considered, you better put "Blues" in the title:
An unexperienced person might not have the feel required to understand that "Got My Mojo Working" has "Blues" written all over it and might overlook your piece of work without giving it a try at all. Instead a song title like "Big City Blues" might draw her attention. In a search for Hip Hop tracks "Hip Hop Superstar" will catch a supervisor's eye faster than "Lo Ridin' Boyz", even if it may be the better track by far.
Do you need proof? Have you ever paid attention to those annoying talk shows dealing with a "Sex" subject? Whenever a candidate walks in to say 'I'm so sexy' they play music that says "Sex". Not some cool music with a sexy feel. They pick songs like "Sex Machine" by James Brown, Tom Jones' "Sex Bomb" or the Salt n' Pepa classic "Let's Talk About Sex". It has to be obvious for everyone to get the clue.
Okay, if your song has vocals and lyrics then stick with your title, but if you offer instrumental music, try to make it 'dumb-people-ready'. Put the genre, the mood or even the suggested use in the song title. It may not be creative, but it's guaranteed to sell easier if your works are called "Fast Rocker", "Country Girl", "Surf And The Sand" or "So Romantic".
– Julian Angel
– – – – – – – – – – – – – – – – – – – – – – – – – – – – – – – – – – – – – – – – – – – – – – – – –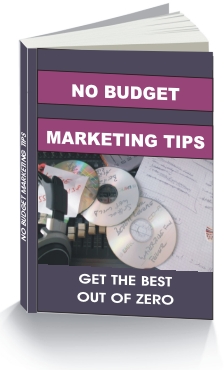 Get more exclusive Music Business
and Marketing tips with the
MusicBiz Madness Newsletter
click here to sign up and get the eBook