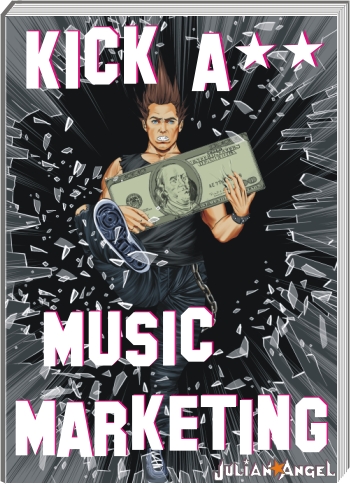 Kick A** Music Marketing
Format: PDF
Language: English
Pages: 54
Price: $ 19.97
You can do it without a record label but not without a label's work! With that said Kick A** Music Marketing shows in a detailled manner how unsigned musicians can use the marketing methods of successful record labels to promote and sell their music. The book explains a tangible, real-life music release campaign and shows all the components you need to set up shop.

Contents:
Release campaign: Structure, duration, extent, components, schedule
understanding underground markets
find and conquer your own market niche
Media: finding the right media, building personal contacts
Press releases, sampling the media
Distribution: world wide physical, world wide digital, mailorder
Deals and pricing models (what can you charge? who gets what?)
Direct marketing (100+ orders through your website at day 1)
staying atop of your scene during downtimes
general music business tips (bonus chapter)

About the author:
Julian Angel has successfully self-released 6 albums through (physical) distribution channels that reach to the U.S.A., Europe and Japan. Julian has contributed to a #8 album in Europe as a songwriter and placed his music in a number of Hollywood movies and trailers (starring Bruce Willis, Mickey Rourke, Dolph Lundgren, Jason Momoa and Steven Seagal a.o.). Julian Angel is also the creator and organizer of the MusicBiz Madness Conferences in Germany.
Price: $ 19.97
Download: After completing your order you will be directed to a
confirmation page where you will find the download link to the PDF.