These days many musicians tend to prefer collecting Facebook likes rather than actually selling music. So what do we actually get from Facebook marketing? Is Facebook a useful marketing tool at all? And why are many musicians abandoning their Facebook pages? The basic question we want to deal with today is whether social media can really send you fans that buy your music.
Let's face the situation: Facebook users trifle with their likes. It's not unusual to be "fan" of more than a hundred bands, which begets the question how thoroughly such fans actually deal with these bands, left alone if they can remember all their names. "I don't think all these people who have liked our page actually care about our music" says rock musician Jo Kimbrell from Norway.
Linda McMinn of England's Mayfair Mall webzine has heard those stories from the bands she has been doing interviews with: "A lot of musicians have told us the same thing, Facebook is rubbish at getting a band known".
Social Media expert Katja Köhler shed some light on Facebook at last year's MusicBiz Madness Conference. "Especially Facebook users mainly care about themselves". That being said, does it actually make sense using Facebook as a (primary) marketing tool? "It is a tool to get information and opinions. But you should never use Facebook for a sales tool. That's a secondary goal at best" Köhler adds.
Phil Vanderkill of Austria's Sergeant Steel probably uses Facebook for what it had initially been meant to be, a tool to stay in contact with some fans. Only with some, as he adds with a smile: "Many Sergeant Steel fans 'don't like us' on Facebook. There's still that weird thing called the real world."
Singer / songriter Vitne even suspended his Facebook page and only uses his personal profile to communicate and interact – with a reason. "You have to promote your posts or else they only go to something like 10% of your actual likes I think modern artists should be less about fans and more about friends". Speaking of Facebook ads, Social Media expert Katja Köhler provided current statistics and drew her conclusion: Facebook users are ad-resistent.
So how can you reach your audience if not on Facebook?
Promoter Birgitt Schwanke of Germusica Promotion has worked with both unsigned artists and big names such as Ozzy Osbourne and Santana. She recommends not to ignore traditional promotion in print magazines and on websites. "Social media is a nice addition which we see as an interactive PR tool to communicate with fans, keep them up-to-date about artists and use for branding purposes. But it hardly generates any direct sales."
Carsten Collenbusch of FinestNoise Promotion shares a similar view: "You can announce the release of a new album to your fans via Facebook, but why not sending these guys an email?  The effect would be the same if not better. Funny that many musicians think that you simply post some news on Facebook and success is just a matter of time". He even recommends outlets such as iTunes and CD Baby as far more effective music discovery tools than social media sites, "because that's where those fans look who are actually inclined to buy".
Being featured outside of free social media sites is like being filtered. You set yourself apart from those bands not willing to take the next step. L.A. based singer Toney Richards explains: "Facebook can help you increase your draw when you do a live gig. But you need interviews with big media magazines. That will turn heads and give you some legitimacy. Also make sure you play live a lot and sell CDs at your gigs".
Hard Rock band Beautiful Beast makes no secret about where their fans come from: "We have sold more CDs than we have fans on Facebook, left alone newsletter subscribers. Those fans who have bought our music must have heard about us via traditional outlets. We have sampled over a hundred media outlets all the way from print to online and radio".
At the end we may say that social media is a nice and welcome tool to stay in touch with your fans – those who like using facebook – which is especially important during down times when you don't have a new album release and when you're not out on tour. A few good questions can engage certain fans even more and bring you valuable information about their preferences and mindset.
Fans ready to spend their money, music nerds and collecters in search of the next gem, however, will mainly be found outside of free communities as they use trusted media to pre-filter the good stuff. Musicians who want to reach that music-buying audience will not get around a serious investment.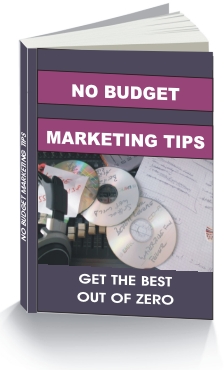 Get more tips and sign up for the
MusicBiz Madness Newsletter !!!
And get the e-Book "No Budget Marketing Tips" on top. ALL FREE !!!