The permanent "buy our music" message will quickly annoy fans while good stories worth a press release are running out after a while. Don't worry, there is a way to ensure your presence on the scene that has proven itself very valuable, even if your latest album release happened some nine months ago. Let's talk about it.
Instead of asking your scene to do things for you, here's your chance to do something for your scene. Ask not what your scene can do for you but what you can do for your scene. Right? This will give you a chance to widen your reach and thereby do actual branding.
Your scene or niche is defined by musical style, mindset and lifestyle. Think of punk culture, metalheads, urban style etc. Now it is your task to entertain and inform your scene, your market niche, or simply just give the people there the credible backup they diserve. How can you do that?
Blogs and Webzines
Not only musicians, even consultants, lawyers and businesses of all sorts maintain their own blogs. Their goal is to give valuable information to their existing customers as well as potential new ones, prove themselves competent and earn trust. Yes, there is some seo background as well – the more words you write, the better you can be found.
Your own Column
Your own column at an existing magazine or style-related website gives you a chance to deliver your message to an already existing base of readers. This is where you can tell stories, share what's happening in your scene, introduce new music (not only yours), write reviews, conduct interviews and simply wave the banner for your entire scene or niche. Show them you're on their side.
Having your own column isn't that hard. Especially operators of smaller to medium sized websites and blogs are happy about additional free contributions.
Your own Radio Show
If you are good at talking you may consider your own radio show. Again, smaller webradio operators are happy about your support. Make sure, though, that your schedule will allow the regular production – or even live cast – of e.g. weekly shows.
Social Media
Social Media should be used wisely and effectively. In order to underline your status as a spokesperson for your scene you should only post relevant, scene- and style-related things only that address the feelings, taste and mindset of your audience. Quality is more important than quantity.
Your goal will be to show the fans in your niche that you are on their side and that you stand tall for the ideals and representations of your scene. If you use any of the above mentioned ways of addressing your market niche you will very likely improve your popularity and win new fans.
To your sucess.
– Julian Angel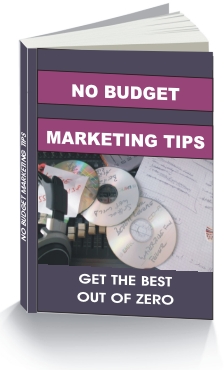 Get more tips and sign up for the
MusicBiz Madness Newsletter !!!
And get the e-Book "No Budget Marketing Tips" on top. ALL FREE !!!