We have to make it easy for customers to make a purchase. If a bricks and mortar store door is closed, if we have to shout for a shop attendee to help us, if certain products aren't visible, our conscience will kindly ask us to go look somewhere else. Especially when purachsing online cutomers have become more and more sceptical, thus factors such as trust and simplicity arekey for a potential customer to click the "buy now" button. Here are a few methods you can use to make it simple and easy for your fans to buy your music.
Your own Website
CDs, vinyl, downloads or merchandise, make all your products available through your own website, because many fans of underground music like buying directly from musicians (and appreciate a signed booklet). To make this process simple, a direct online checkout has become essential these days. A simple PayPal button works magic for single product sales. If your repertoire exceeds four items a shopping cart system is worth considering. This will offer your fans an easy, simple and trustable shopping experience – especially a quick one before they may change their minds for whatever reason.
Several Outlets
We all have our preferences when we shop for music, part of this is our favorite, trusted shop. Do whatever you can to make your music available in as many different outlets as possible. Besides all the digital outlets that could be Amazon, CD Baby, maybe eBay and a number of stylistically dedicated mailorder shops – even in foreign countries, because your foreign fans may want to save on postage.
List of Outlets
Offer a list of all outlets that carry your music on your website and your social media sites (where possible). The most important ones (five to ten) could be listed along with their logos in a side bar menu on your website. Make sure you link directly to your product there, not just to their home pages.
Social Media too
In every social media post that promotes your music or new album you should include links to at least three different outlets where your music is available. One should be your website. Add them to your Youtube video descriptions as well.
Your ad in Your Newsletter
Place a little text ad within the first third of every newsletter you send to your fans. Again, list at least five outlets there.
QR Codes
Print QR codes on your flyers and business cards that lead directly to a sales page with sound samples. This makes it easier for people who hold your flyer to check you out, rather than typing your URL in their phones and clicking through to your music page.
Media
Ask journalists to place your weblink under their reviews or interviews. Also work your web address into the final sentence of each press release you send out. So interested fans can click through directly without searching first.
Mind Priorities
Selling music and merch is your number one priority. Then comes getting subscribers for your newsletter followed by begging for social media likes. So it's a no brainer to point new fans towards your music first, right?
All of this is based on the idea of not letting potential customers off the hook and providing them with simple purchasing methods – oh well, the days of sending cash in an envelope are gone, though they were great.
Speak German? Read all about this year's MusicBiz Madness Conference here.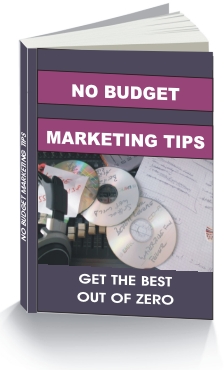 Get more tips and sign up for the
MusicBiz Madness Newsletter !!!
And get the e-Book "No Budget Marketing Tips" on top. ALL FREE !!!