Streaming accounts for 13% of the total music revenue in Europe, Vinyl increased by 30%, CDs are still the main product of choice. Interesting numbers that present a good picture of the music industry's current state. But are these facts of any importance to the self-marketed musician who usually avoids the mainstream? 
There rarely are any known facts about the underground music scene, mainly since it cannot be monitored as easily and efficiently as mainstream media and chain stores. The underground is where records are being sold without a barcode, clubs don't report attendance figures to market researchers and musicians regularly lie about their sales…
As a result it is difficult to point out certain trends and fads, neither in terms of marketing or fan behaviour. Besides, every stylistic niche has its very own regularities. But still, DIY musicians don't need to lose orientation. Many of their peers regularly present successful promotional methods that are worth imitating – or at least adapting.
Orlando's Vegan Black Metal Chef growls vegan recipes on Youtube, which earns him seven figure views and helps promote his music, CDs, DVDs and merchandize.
Country singer Danika Holmes sent 3,000 Christmas cards to past buyers to promote her then new Christmas CD. With 1,200 copies sold she got a 30+% turnaround rate. She even sold bigger stocks to companies who used her CDs as giveaways to their clients.
Mr. Billy's specialty are themed albums for children, but more than that it's his way of presenting himself: Mr. Billy recorded his Zoo Album on a mobile recorder at, well, the zoo while his songs about trains were recorded at a train station. At one point the local press could no longer ignore that weird musician.
Dividing the minds is still 'mass producer' Matt Farley. You can find about 18,000 of his usually simple songs on spotify. Using keyword-rich song titles each song generates a few bucks – times 18,000…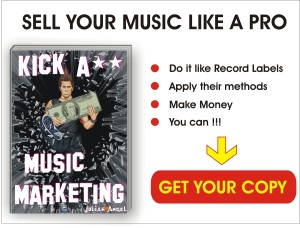 In an attempt to make some quick money, rockers Beautiful Beast packed 17 previously unreleased songs to a zip file and sold them for a limited time directly through their website. German metal act Godslave did a similar thing and offered a limited edition (77 CDs) of a live recording only to their newsletter subscribers.
Even the live business offers creative marketing methods. Pink Dragon promoted their gala show with a street performance the same afternoon. Norwegian act S.E.K.S. gave bonus cards to their live audience. After five concerts visited their fans had been eligible to free merchandize.
If there is one huge advantage DIY musicians have over signed bands it is their capability to quickly implement creative measures to boost their popularity and their sales without going through endless meetings.
However, not everything works right away. Especially the habits of each genre and its niche have to be considered, which requires a lot of trial and error. And that's exactly what marketing agencies do: test. If it generates success it will be applied, if it needs finetuning it will be revised, if it comes to nothing it will be easy for independent musicians to change their course. A small rowboat is easier to maneuver than a big freighter.
So keep your eyes open for new marketing ideas, whether they come from your competition or from the grocery store around the corner. You can bend it all into shape so you can use it.
* * * * * * * * * * * * * * * * * * * * * * * * *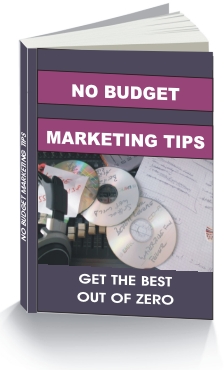 Get more tips and sign up for the
MusicBiz Madness Newsletter !!!
And get the e-Book "No Budget Marketing Tips" on top. ALL FREE !!!