Sometimes it is just good to see what makes other musicians successful. Lists like this here have been written before, nevertheless I would like to share some of the key traits of sucessful musicians whom I have interviewed or met in person. Enjoy and never hesitate to make these traits your own. So what makes musicians sucessful?
#1 They are quick
Sucessful musicians know there is competition, so they quickly respond to inquiries and submit offers usually within an hour or two. This, of course, requires preparation and good internal band management, i.e. knowing when their fellow band members are available. With eMail and smartphones at their disposal there's no excuse for not getting a call or message.
#2 They are flexible
Successful musicians are fine with doing things that are beyond the obvious. Piano player Alex Streit has been playing high paying corporate galas as a solo pianist for years. Whenever an event planner asks for music to a special theme event (e.g. a roaring twenties theme show) Alex hangs two microphones over his grand piano, records a few excerpts of matching songs and sends the mp3 demo within 30 minutes. He gets the gig.
#3 They invest in music promotion
Successful musicians know they have to get the word out and that promotion is key. And it doesn't come for free. They invest money in an album release campaign, sample the media world-wide and carry all the costs. Three to five dollars per expected copy sold is a good investment. Yes, sending physical promo copies costs money, but it also gives a head start. The vast majority of those who run dedicated music blogs and webzines do it in their spare time without compensation. So a tangible copy of the album (compared to just a two-time stream) is being considered a great thank-you gift.
#4 They are international
The music scene is no longer local, it has become world-wide. Successful musicians therefore make sure they get featured in international media and have their music available for sale in different countries – which makes it easier for fans to buy and save shipping costs.
#5 They help others
Successful musicians understand the idea of give and take. They are willing to share their experience and even their contacts with others and thus learn from each other.
#6 They educate themselves
In order to stay on top of the game successful musicians regularly learn about new or changing laws and rules in the business. They read about and try new technologies and are on the lookout for new ways to promote themselves. A daily 30 minute digest of information is a good way to start.
#7 They know their audience
Successful musicians don't reach out to just "somebody". They know who their fans are and where they are. They know the scene – their scene – in and out with all the magazines, websites, blogs, radio shows, clubs and even lifestyle. They usually share the same values with their fans and thus know where to find them and how to address them appropriately.
#8 They work hard
Sounds like a no-brainer but needs to be said over and over again. Despite all the partying myths even the big stars have always had serious business structures behind the scenes. Successful musicians maintain a certain work ethic, stick to schedules and avoid distractions. Many of whom I know are sitting on their desks by 7.00 in the morning every day.
More ideas are welcome, so feel free to share some.
To your success…
– Julian Angel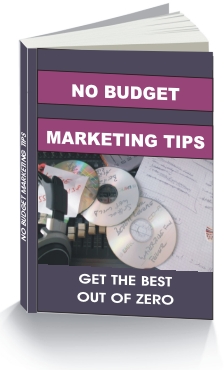 Get more tips and sign up for the
MusicBiz Madness Newsletter !!!
And get the e-Book "No Budget Marketing Tips" on top. ALL FREE !!!