Why does one band get the gig while the other doesn't? I have posed this question to a number of club owners and booking agents to put some light on the issue of successful band applications. Based on the answers I have got the difference between professional and merely miserable comes clear. 
First I would like to thank the exactly three bookers who have taken the time to share their views: Volker Wrede of Live Club Bamberg, Sonja Tonn of Erlangen's Strohalm and Sebastian "HiJinxx" Alsdorf of the now legenrady Paunchy Cats Club in Lichtenfels, Germany.
It has to be a good fit
Most artist submissions come in via eMail these days. "Searching huge boxes for CDs is definitely out" says Volker Wrede. But it is exactly the ease of sending eMail which gives booking agents a hard time way too often. Many band submissions, namely, just don't fit the club's direction. "Out of 25 daily applications maybe one or two bands are actually useful for us" says Sebastian Alsdorf who even takes the time to kindly ask younger bands to gather some experience at youth clubs first.
Sonja Tonn adds: "I like it when musicians take the time to get to know our club, its style and circumstances before they inquire about a gig. So they will realize that we cannot place a 10-piece band on our stage and that we cannot pay extraordinarily high fees".
Personal always wins
Personally addressing an eMail application to ist receipient should actually be a no-brainer, but it still seems to get ignored by too many musicians. "Mass eMails to 'Hi all' with all other 500 receipients cc'ed are an absolute no-go" says Wrede.
"A personal salutation makes quite a difference here. It let's me see that the sender has taken some time to thoroughly deal with our club before hitting 'send'" adds Tonn.
Next Steps
One week is a good time after which to follow up with a phone call. Wrede and Tonn agree that this is not considered annoying but actually sincere. Once a booking agent offers a free slot, immediate action is mandatory.
Volker Wrede explains: "Dates should be fixed in real time on the phone. This requires having an updated band calendar. Things like 'Give me a few dates so I can check with my bandmates' don't work for me. Until your mates have agreed upon a date I will have given the gig to someone else".
What makes a good Application?
"You eat with your eyes first" admits Sebastian Alsdorf and refers to emIals that actually look like fully fledged magazine articles. "A catchy header image and one or two Youtube videos, directly inserted via HTML have a much better effect than an endless story about why a band wants to sound like mix of Bon Jovi and Slayer".
According to Volker Wrede band descriptions should be short and to the point. Funny and original wording is welcome too. But descriptions such as "driving basslines and tight grooves" bore him to the bone.
Especially for musicians who are looking for connecting gigs during a tour it becomes beneficial to list their existing tour dates right within their application, suggests Wrede. This definitely helps any booking agent find a good day for you.
Additional Materials
Most booking agents prefer demos in the form of weblinks. If you'd like to take a pass on Soundclod (oh well, your rights) you should offer a few audio players on your website. All demos should be streamed. "As a basic rule I never download anything, left alone register to get access to the material in question" state Wrede.
Just like anyone else Sebastian Alsdorf and Sonja Tonn prefer an "as is" demo. If you are a solo artist, don't provide sound examples with full backing band.
Things to score with
With regards to band bios and press releases Sonja Tonn has a clear view: "I need enough material to write a full press release with – and I need it in a common format that allows copy and paste. I don't want to type everything off a JPG. Add to that pictures in various sizes and resolutions to be used on our website, on Facebook and in print media."
Press material should not be included in the initial eMail submission. Instead, your website should feature a press area where such materials can easily be found and downloaded.
A really strong selling point are out of town press clippings. "If a band can provide a press clipping about having a full house in a far away place I'm quite confident they can fill our club as well" Tonn continues.
Proactivity
Especially when it comes to the promotion of a gig many club owners moan about the lack of support from the bands themselves. At Paunchy Cats newcomers usually apply for support gigs for popular bands. "Our deal used to be that we paid all support bands gas money, catering and accommodation while the bands provided their backline so they would always draw level" explains Sebastian Alsdorf.
The bands' commitment, however, left a lot to be desired. One counted on the popularity of the headlining act to draw an audience for the opening acts too. As a result, though, many an opening band found itself performing to audiences small to none, since the main act's following would only come in later.
That's why the Paunchy Cats Club had to change its policies. Support bands now buy 20 to 25 tickets at a discount and sell them to their fans. The club wished it didn't have to be this way, "but this seems to be the only way that bands actually become active in marketing their gig". Some bands now even organize bus rides to the Paunchy Cats Club who in return does its best to help accommodate their following.
Sonja Tonn on the contrary experienced a pleasant surprise lately: "A touring band who wanted to play at our venue even had found a local support act themselves and suggested them right away with their application. This gives the show a local connection and helps break a new band in addition. It doesn't necessarily ease our job, but it's a good indicator to make a positive decision".
Last not least a few No-Gos:
Incomplete contact information. No real band website. Hard to find contact information. Contact only via Facebook. Dead links. Macho catering requirements. Hubris. Being hard to reach. Not returning phone calls in a timely manner. Sending band posters later than agreed.
In the end it one more time comes down to making dealing with you as convenient as possible for your business partners. A successful gig requires action from both sides. In times of "maximum abundance" (Sebastian Alsdorf) bands have to stand out – with music, appearance and a professional attitude.
Here's to your success…
* * * * * * * * * * * * * * * * * * * * * * * * *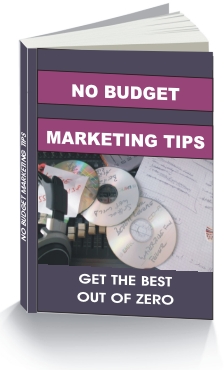 Get more tips and sign up for the
MusicBiz Madness Newsletter !!!
And get the e-Book "No Budget Marketing Tips" on top. ALL FREE !!!