Crowdfunding isn't a mystery anymore. Musicians as well as companies and product developers use "mass money" to fund their projects. Still it's not a no-brainer, since potential donors need to be convinced by a great idea in which they can trust. So what is it that makes a crowdfunding campaign a success, in that it reaches – or even surpasses – its goal? Even if crowdfunding is not your thing, these insights may be interesting for your marketing anyway.
Goals and Incentives
Clearly and realistically state what your campaign is about and which goal you intend to reach. Explain that financial goal by listing the costs so that your potential donors get an idea of why exactly you ask for so much money. Studio fees for X days, mixdown, mastering, artwork, manufacturing, maybe a music video. This will let you appear realistic and trustworthy as you seem knowledgable about your business rather than just being a dreamer who asks for a random amount of money.
To many donors the added value is already in simply being part of it as well as receiving the final product sooner than the general public. For that reason a CD may as well cost five bucks more than they would regularly do. However, charging for a credit in the 'special thanks' section is quite a bit questionable. Merchandise, box sets or private house concerts on the other hand seem a lot more interesting and valuable.
Another incentive for your donors are regular updates which you give them during the funding campaign as well as during your production: studio reports, exclusive photos or videos, rough mixes and demos.
Crowdfunding platform IndieGoGo says that in 93% of all successful campaigns fans were offered such additional incentives.
Appearance
It all starts with an appealing profile page for your project. Leave no doubt about your musical direction, express professionalism and seriousness and provide a schedule that shows how your project will be realized in a timely manner. In other words, tell your donors when they will receive value for their money.
According to IndieGoGo crowdfunding campaigns with a video presentation generate 114% more money than campaigns without one. Kickstarter's Yancee Strickler recommends presenting the most important facts within the first 30 seconds.
Addiotional links to your band website as well as your social media profiles will help your potential donors find more information about you and thereby gain more trust. This can increase your chances by 50%, says IndieGoGo again.
Communication
From the moment your fans have handed you their money to the completion of your project lies a lot of time. Give your donors a good feeling by posting regular updates, so they can see you are actually working on it.
30 to 40% of all crowdfunding revenue is made through personal contacts. The other part comes from various sources. This is when well-maintained contacts to the media (magazines, blogs, webzines, radio) who help promote the campaign can really pay off. Especially bloggers are often looking for interesting crowdfunding campaigns. A music production may not exactly fall into this category, but maybe you have a great idea that outperforms everything else ever.
Length of the Campaign
At Kickstarter successful campaigns reach their goal within 30 days. IndieGoGo on the contrary assesses twice as many days. In the end it is up to you how long your campaign should run. Just keep in mind that fresh campaigns always look more interesting and draw more attention than those who have been looking for the final 50 bucks for weeks.
Here's to your success – Julian Angel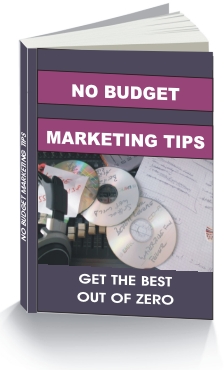 Get more tips and sign up for the
MusicBiz Madness Newsletter !!!
And get the e-Book "No Budget Marketing Tips" on top. ALL FREE !!!