What does a musician has to be capale of these days to sustain a carreer in the music business? While some basics are still relevant after all those years – even decades – especially the internet comes with lots of new challenges a musician has to handle. Normally, that is to say, musicians don't have the budget to hire outside people to handle all the work.
Music
Artistic talent is basic. Besides mastering an instrument technically there is the creative part such as writing songs, improvising, jamming, a wealth of ideas for show and image concepts – things you normally cannot learn in school or study.
Production
Those who have the chance, means and skills to produce music at home really do have a huge advantage. Especially in the independent sector fans really appreciate music productions that 'lack' the final 10% you get out of a big studio. It's not unusual for such productions to even enter the charts. The home studio or notebook, though, can not only be used for album productions, musicians can also act as studio musicians right from home, record and send files via eMail – which is common practise today.
Technics
Whether it is your own speakers or the pre-installed club pa, the components need to be wired and operated. There isn't always a specialist on site if you need one, so a band better knows its way around a mixing console and how to connect that with the power amp and the speakers.
Marketing
DIY marketing more and more consumes the larger part of a musician's day. Promotional skills and knowledge about marketing become increasingly important in order for a musician to establish his own brand in a market that is definitely over-saturated. Contacts have to be made and maintained, budgets need to be calculated and stories delivered to the media.
Distribution
DIY musicians use established distributors and mailorder shops to get their physical records out to the world. This requires proper accounting and invoicing while keeping an eye on every single outlet's sales stats. Using digital contant aggregators that 'ship' music to all relevant download stores seems like a breeze then – but as long as there is demand for physical product it should not be ignored, just think of the newly rise of vinyl sales.
Computer Skills
Computer tasks such as the design websites and band logos, editing band photos, composing band infos or operating a mailing list. Many times a photo has to be edited and eMailed quickly for a concert poster, the new web shop has some errors, a publisher requires a better mix of a track and you cannot wait for an expert to handle the task, left alone pay for one. Guess who will be doing it…
Business
A musician always leaves a professional and trustworthy impression once she knows the ins and outs of the music business. Being aware of who is who, who does what and how much is being paid for certain things gives every musician a solid basis for negotiations and budget calculations. There's nothing more unpleasant for a music business person than dealing with a musician whose ideas and expections are far from reality.
Legal
Barely anybody has the financial means to consult an attorney everytime she signs a contract. Understanding basic legal terms and language for the most common types of contracts is key. Musicians whose mother tongue is not English should get familiar with English legal language as well. It's not all about contracts, though, proper invoicing, tax regulations and copyright law fall within that scope as well.
Social Skills
At the end it all comes down to dealing with people, be it your fans at a concert or business people off the stage. Politeness, reliability and professionalism are key requirements.
Today's (DIY) musician is not necessarily a proverbial jack of all trades. Instead she is an entrepreneur. Just like a self-employed craftsman whose actual craft only accounts for a fraction of his daily work. Some people grow their own vegetables to stay independent – a musician develops a wide array of skills. With all respect to being self-sustained or independent there is one skill that should not be ignored despite all of the above: knowing when it is time to definitely hire an outside expert. The acquired experience will help find the best solution.
To your success – Julian Angel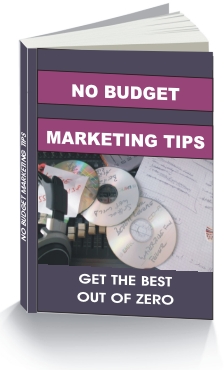 Get more tips and sign up for the
MusicBiz Madness Newsletter !!!
And get the e-Book "No Budget Marketing Tips" on top. ALL FREE !!!