When marketing your music going for the kill isn't always the best strategy because, yes, it can kill: your reputation, your fanbase, your sales. Wisely targeted action always brings better results than blindly shooting around and wasting your time and money on divergence losses.
In the context of contemporary music marketing the less-is-more idea has been one of the top conclusions at this year's MIDEM conference. So top producer L.A. Reid explained that it's more imporatant what you do with your fans and followers rather than how many you have got. While generally only 5 to 10 percent of all social media followers actively engage in conversations this rings more than true.
The same can be said about an artist's public exposure. "If an album is ubiquitous, you take the specialty away from the core fans" added Reid. Transfer that to social media marketing, where one or two good posts a week outdo constant self-portrayal that quickly wears off.
Aiming your marketing at only a smaller but dedicated community is not only more effective, it also saves time and money. Instead of trying to convert country music fans to hip hoppers you better first win over every fan of that particular genre before you start evangelizing.
Do you know the bands who constantly pollute social groups and mailboxes with "check out our new video" or "buy our album at 25% off – today only" messages? He who always asks for money and attention quickly gets dismissed as 'desperately in need'. So you better let your fans know you are there, but stop pushing them like a door-to-door insurance sales guy.
They say a stitch in time saves nine, so pooling your creative, physical and financial strengths for a few targeted shots will generate better results – interpersonally as well as financially. Do less, do it wisely, and get more.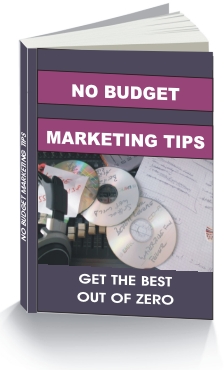 Get more tips and sign up for the
MusicBiz Madness Newsletter !!!
And get the e-Book "No Budget Marketing Tips" on top. ALL FREE !!!