Becoming a successful musician is usually a long term goal and requires respective endeavours. No hit song is really an overnight success, even "Mambo No. 5" took more than two years to create and refine, followed by polishing doorknobs. Still there are a few proven ways to boost your short term revenue as a musician. Today we would like to introduce four of them. 
#1: Busking
Performing in the streets might not be for everybody, however, it will definitely make you money still today, on top it may give you a new experience in handling crowds. Be careful with permits and fees where they are due.
#2: Digital Compilation of unreleased Material
Every band or musician probably has a number of unreleased songs lying around: songs that didn't make it on the album, songs in different styles, remixes, acoustic versions, old demos etc. Put at least ten such tracks together and zip them as high quality mp3s. Offer that zip folder for download directly from your website (PayPal makes it possible for you) at a price you cannot beat – after all it's not a regular album. Use your newsletter and social media profiles to promote this album to your core audience.
#3: Welcome Package
Create a single spezial web page on which you offer all of your previous CDs as one package at a discount. Call this a special offer for new fans, a "get-to-know-us" package. Include the link to that web page in your welcome message which you post on every new Facebook friend's wall. Make sure, however, some time has passed after you have sold the last all-in-one package at regular price, you don't want to annoy recent buyers who have paid full price.
#4: Special Occasions
You know it. Both retail and online stores heavily squash their prices at special occasions such as Thanksgiving (Black Friday, Cyber Monday), Christmas, 4th Of July etc. These are welcome –  and acceptable – opportunities to offer your music at special rates for a few days. Be creative and come up with your own special occasions such as band anniversaries or your birthday.
These methods have really worked for a number of musicians. In order to successfully perform them the right setup is mandatory: your own website with integrated checkout, a mailinglist and a well-maintained social media presence.
Be sure to check out this year's MusicBiz Madness Conference if you live in Germany, Austria or Switzerland.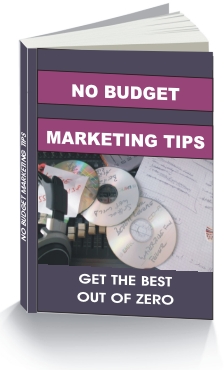 Get more tips and sign up for the
MusicBiz Madness Newsletter !!!
And get the e-Book "No Budget Marketing Tips" on top. ALL FREE !!!