MusicBiz Madness is a business conference for mainly DIY musicians. A number of carefully selected speakers hold seminars about several important aspects of "making it in the music business".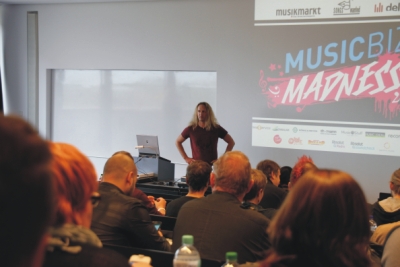 Producer Julian Angel, a rock musician and corporate event planner, focusses on providing proven "how to" guides to an audience hungry for knowledge: "There are so many books, websites and even seminars about the music business, but they all lack one big thing, that's insider information from people who have walked their talk. Musicians don't only want to know what they can do to further their careers, they need to know how they can do it. How can I sell more music. How do I get more gigs. How do I approach record companies. That's where MusicBiz Madness came in".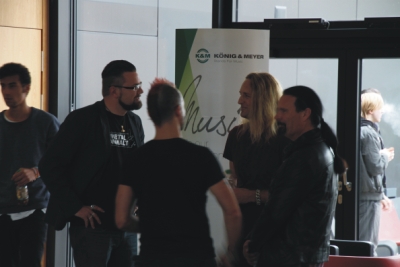 Musicians from all over Germany, Austria and Switzerland come to soak up knowledge they won't find in books. A small trade show area complements the one-day event and gives room for networking and tech talk.
Reactions from the audience were overwhelming, which encouraged Julian to organize the third MusicBiz Madness Conference  in 2015.
Here are some of the speakers and topics from the MusicBiz Madness Conferences:
Goar B. (Unicade Music) – Producing music and pitching it to record labels
Goar is known as the producer of Lou Bega's worldwide #1 hit "Mambo No. 5"
Bernhard Weiss (Axxis) – Tour planning, promotion and financing
Bernhard is the lead singer of Germany's hard rock legends Axxis and has successfully maintained a carreer of more than 25 years.
Christian Goebel (Motor Music) – What Musicians Have To Do In Today's Business
Christian is label manager at Motor Music, the former label of Rammstein.
Bruno Kramm (Das Ich) – Setting up marketing and distribution channels
Bruno is the main songwriter and producer of EBM project Das Ich and owner of Danse Macabre Records, an independent label with more than 100 releases.
Birgitt Schwanke (GerMusica Promotion) – PR Basics For Musicians
Birgitt has done PR for releases of The Rolling Stones, Santana, Bruce Springsteen, Alice Cooper and others.
Frank Fellermeier – Optimizing your PRO royalties
Frank consults Germany's leading film score composers and makes sure they get every penny from their performing rights organisations.
Carlos San Segundo (delamar.de) – Online Marketing For Musicians
Carlos runs Germany's most successful website about music, gear and recording and has his own marketing consulting business SANSEG!concept.
Marc Weissenberger (rockthe.biz) – Marketing strategies from unsigned musicians all over Europe
Marc has travelled Europe to shoot the documentary film 'rockthebiz'. He has interviewed musicians from all European countries to find out about their DIY marketing strategies.
Julian Angel (Beautiful Beast) – Direct-To-Fan Marketing
Julian explained his secrets of selling music directly to his fans
Paul Estrela (The Makemakes) – Hitting the charts without a record label
Paul is the manager of Austrian pop trio The Makemakes. He had developed a marketing strategy with only one goal: getting listed in the charts – and they succeeded.
Christian Koch (The Metal Lawyer) – Legal aspects of Music Promotion
Christian is an expert in IT Law and Copyright.
Malte Graubner (SellaBand) – Crowdfunding for musicians
Malte is artist & product manager for SellaBand Germany.
Joachim Griebe – Getting production gigs in advertising
Joachim is 'just a normal guy' who makes a living as a musician. He has composed and produced numerous songs for commercial spots and corporate videos.